Etiwanda Falls Hike
Etiwanda Falls Hike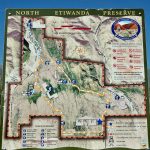 In the backyard of Rancho Cucamonga hides what was once a fairly well kept secret, Etiwanda Falls. A few years ago the North Etiwanda Preserve hiking trail was put in and the falls now attract many people every weekend. It's not overloaded but you will most likely run into some people up there.
Getting there is simple. Exit the 210 freeway at Day Creek and go North on Day Creek which will eventually curve to the right and dead end into Etiwanda Ave at a stop sign. Make a left to head north on Etiwanda Ave. which will dead end into a dirt parking lot where your hike will begin.

The map at the beginning of this article shows the proper North Etiwanda Preserve hiking loop however if you follow the map counter-clockwise, at the fork for area 'B' there is a path to continue north, there is a gate there that you will need to walk around. You will know you're at the correct fork when you see the trail marker pictured to the left. in the background of this picture is the gate that you will need to walk around. Also on the trail marker will be blue writing with arrows that say 'waterfall', once you spot the writing it's pretty hard to go the wrong way. Continue on this path until it dead ends which is about a mile up. Here are a few pictures from the last time I was up there:
As you will notice in the above pictures, there is tons of wildlife in this area, be prepared to see rattlesnakes and horny toad lizards. If you see one of these creatures it's important to keep in mind that they are more afraid of you than you are of them and you should not tamper with them. leave them alone, give them space and once they see you they will most likely go away pretty quickly. Also, in the summer this hike can get extremely hot, in excess of 100 Degrees. Be sure to take plenty of drinking water.
That's about all you need to know on how to get to the historic Etiwanda Falls, if you have questions feel free to contact me. Also feel free to post comments and questions below.